Dear Denise,
Our joy could not have been greater than to see Rosaura baptized last Sunday. We started to cry just seeing her walk into the water.
The river that day was turbulent as well as muddy from a fierce storm the whole night before, but she was undaunted. She spoke to everyone standing on the rocky shore with a contagious joy. She touched her
heart and beamingly said, "Jesus loved me even before I was born!"
This realization was, as the Word says, "marvelous in our eyes".
Rosaura is a quiet, delightful young teen who has not been ashamed of the Gospel. She walks a half hour to school down the mountain each day and then returns uphill with her Nahuatl friends from her village. She shares with them what she has learned in the Word, even at the cost of their criticism. She visits homes with us and shares with conviction. It is beautiful to see and hear her growing faith in word and deed.
An eternal gift for us is that we have spiritual children that we love and rejoice in. We agree with the Apostle John and with parents everywhere who say, "I have no greater joy than to know my children are walking in the truth." 3 John 1:4
Raul shared that he went to the little home group in a house church in Tlaxcantitla for 3 years, simply to accompany his parents. He never opened the Bible of his own accord until last January. At that time he read Psalm 37 and the words pierced him.
He told Denise, "I have repented of many things." Raul started to be so attentive, helped in every way possible, and prayed for his family. He knew God's Spirit had personally called his name. Raul tearfully shared before going down into the water, "He looked for me even when I was not looking for Him."
Paula was a young wife with two little girls when her husband was shot dead in the village dance hall. It was a shock to everyone. She began to come to church after that and bring her little girls faithfully to Sunday school. She did not start trying to look for another man. Paula's young widowhood has shown her that "God is the best husband for me and the best father for my daughters. He will take care of us." He has! We admire her modesty, her focus on her girls, and her dignity in following Jesus. She has stayed strong in faith despite the verbal stones thrown by her family. May God bless her. Her baptism is a true reflection of a life leaning completely on the Savior.
As a single mother, Alejandra made years of mistakes both under pressure from a controlling man and of her own choosing. Sound familiar? We have all tried to fulfill our own needs in sinful ways, leaning on our own understanding, controlled and driven by emotions, pride and urgency. Her words in her baptism showed how far her faith and God´s mercy have brought her, "God has forgiven me everything and given me freedom," she said with conviction and assurance.
Common law marriage has always been the norm in villages. However, Juan and Julia are examples of the young couples who are coming to Christ. They are getting baptized and getting married.
These young people bless our hearts and we love them as if they were our own children. Indeed, for our national team in the mountains, these young people have become like family to us all. Space fails us to tell you of the 18 precious lives that gave public testimony of a new birth and hope in Christ. It was a glorious sunny day so reflective of "weeping that endured for a night (in their former lives) and joy that comes in the morning (their newness in Him). It was a sunny, happy day! We wish you could have been there!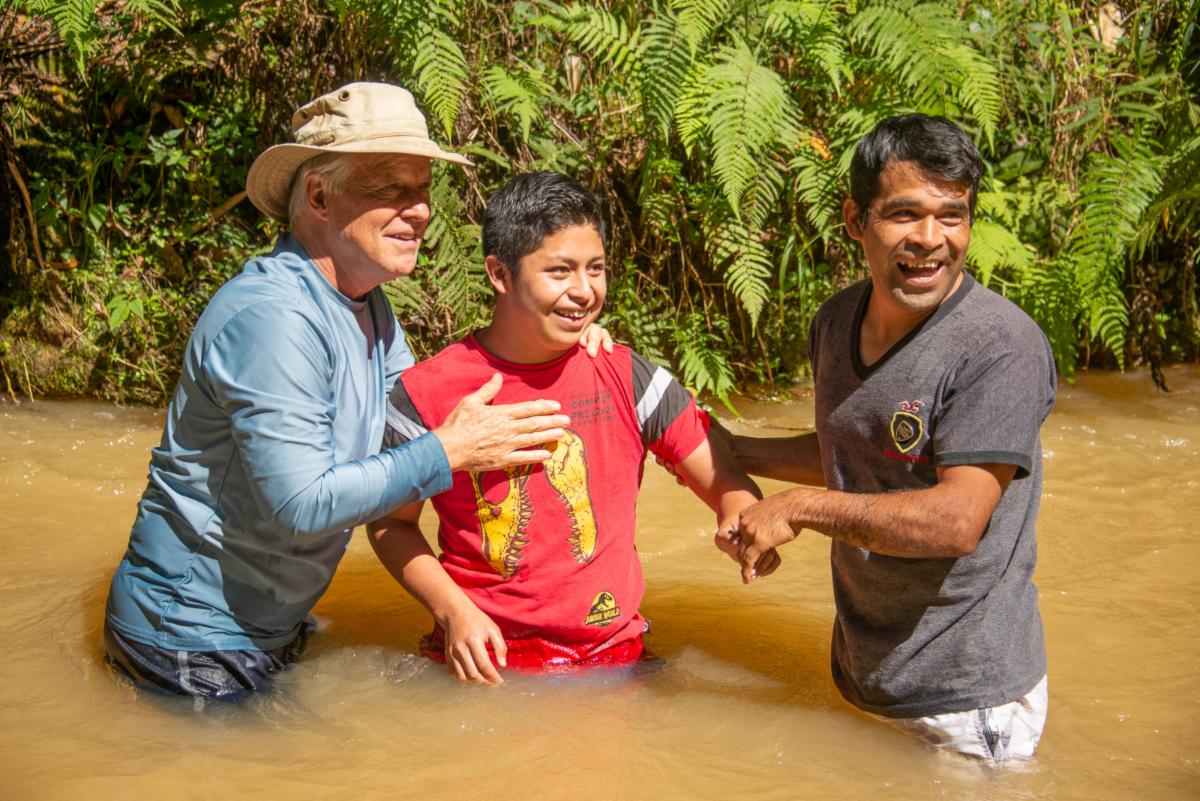 Finally, news of our family. Our son Erik has moved to a city about 100 miles from Baghdad, Iraq – arriving there to face 3 days of fever and now nationwide protests. Please pray for the beginning of his teaching year at the University. Alexa and her husband live with their three children in Virginia. They are making the new adjustment of their young daughters entering kindergarten. The girls as well as little Lukas are happy children! Rebeca continues well in DC with impacting work with 3-5 year old children at developmental risk in the DC school district's "First Stages" program. She also is very involved in her local church and has a continuing hospitality ministry. Marcos is in a transition period in his marketing career and discovering his personal creative aspects of that field. Joyfully, we have found our daughter Grace who was missing for a year and a half. This discovery is a completely Spirit-lead story! This took intense inner stress off of us as we feared she might be dead due to an increase in the murders of women here. What a relief to know where she is! Her health is improving compared to what it has been for years. Both of her sisters have come to visit her and our grandchildren have come to Mexico to lovingly meet their "Tia (Aunt) Grace" for the first time. We are praying Grace's own children can come here to see their mom, after many years apart. Thank you for praying for our children and for us in this ministry in Mexico!
Your grateful friends in Christ,
Ed and Denise