I waved to a friend in the village to which she responded, "That is the way they say we should greet now, don't they?"
"They" are the village authorities. Just last week, for the first time, they announced on a loudspeaker in the Nahuatl language telling the community about the virus. Included in these warnings were the words, "And don't go down to the city, any city".
Yet the city is coming to the village, by the hundreds and thousands. So many indigenous people are out of work in urban areas that they are packing up and heading for the hills to their rural homes. The virus contracted in the city is now spreading rurally. There are thousands of other families that are now seeing the end of their corn crops. Currently people are planting new crops that will not be ready for harvest until late fall. Every grain is precious. None is let fall on the ground.
Merchants are beginning to gouge the people with exorbitant prices.
When the volcano Chichonal erupted in 1982 in Chiapas, Mexico, we brought in truckloads of grain, paid for the freight out of our own pockets and sold the corn at cost. That forced the angry merchants who were way overcharging to lower their prices. How true the proverb is: "A false balance is an abomination to the Lord, but a just weight is his delight." Proverbs 11:1
People need to live, share and keep a watch so that ugly greed will not sneak up in times of scarcity. This is when the "me and mine" attitude grips and desperation makes one grab for all one can personally get. Mexico is behind on protocols and action as compared to other countries. We are trying to get loads of beans and rice to share in the mountains. Already there are shortages of these staples. This is of immediate concern to us. We are asking for wisdom to do our work as the Lord would direct.
The governmental directive of groups of 50 or less means that the last two Sundays believers have met in small groups in various homes. We visited each one and the leaders were beaming at the enthusiasm and the participation in the Word even of those who are normally quiet. "But encourage one another daily, as long as it is called "Today," so that none of you may be hardened by sin's deceitfulness." Hebrews 3:13
The words of Scripture were leaping out at them as faith was growing in them while they shared. Tollan, a young leader in the church, told his family he would be having a time of praise to God and study of the Scriptures in his home. To his amazement, his grandfather, a man who has mocked and shunned Christians and who kept his wife from coming to worship for decades, walked in the room and quietly sat down. Tollan's heart burst for joy! He told Denise, "I feel part of the family. I feel accepted. I never thought this would happen in my life!"
Yes, fear is gripping some, but God's Word and God's people are in overdrive to trust the Lord in these circumstances. They are in high gear to help the less fortunate (yes, even in villages there are the "haves and have-nots"). They want to be an example of the Believer to the unsaved in their families and towns by word and deed in real time. For this we lift our hands in praise to our God in heaven!
We are in touch with our family. How sweet for us to see, by video, three of our young grandchildren celebrating church at home during this quarantine time. Two strummed small ukeleles for worship and the third, who is learning to read, looked at her little Bible and pronounced slowly and reverently "God…is…our…refuge".
We ask special prayer for our son Erik who is in Iraq under some trying conditions. Please pray that if it is the Lord's will he could leave and come home for a time.
Our daughter Rebeca is due to be married here in Mexico in May. We are delighted for her and the man God has chosen for her. We have been blessed to see their patience, trust and confidence that God will show them what to do in light of these changing times.
God encourages us daily. A recent sermon has stirred our hearts. Pastor Philip Miller said:
"In this time of social distancing, separate and cloistered as we are, we dare not distance ourselves from the Great Commission Jesus gave us.
There is still grace to share
There is still compassion to unleash
There is still kindness to offer
There is still hope to extend
There is still love to give
There is still freedom to proclaim
There is still good news of great joy that will be for all peoples."
Thank you for your prayers for us, for the work here and for our family.
Our prayers are also for you, especially at this critical time in your personal history with God and in this world,
Ed and Denise
Our joy could not have been greater than to see Rosaura baptized last Sunday. We started to cry just seeing her walk into the water.
The river that day was turbulent as well as muddy from a fierce storm the whole night before, but she was undaunted. She spoke to everyone standing on the rocky shore with a contagious joy. She touched her
heart and beamingly said, "Jesus loved me even before I was born!"
This realization was, as the Word says, "marvelous in our eyes".
Rosaura is a quiet, delightful young teen who has not been ashamed of the Gospel. She walks a half hour to school down the mountain each day and then returns uphill with her Nahuatl friends from her village. She shares with them what she has learned in the Word, even at the cost of their criticism. She visits homes with us and shares with conviction. It is beautiful to see and hear her growing faith in word and deed.
An eternal gift for us is that we have spiritual children that we love and rejoice in. We agree with the Apostle John and with parents everywhere who say, "I have no greater joy than to know my children are walking in the truth." 3 John 1:4
Raul shared that he went to the little home group in a house church in Tlaxcantitla for 3 years, simply to accompany his parents. He never opened the Bible of his own accord until last January. At that time he read Psalm 37 and the words pierced him.
He told Denise, "I have repented of many things." Raul started to be so attentive, helped in every way possible, and prayed for his family. He knew God's Spirit had personally called his name. Raul tearfully shared before going down into the water, "He looked for me even when I was not looking for Him."
Paula was a young wife with two little girls when her husband was shot dead in the village dance hall. It was a shock to everyone. She began to come to church after that and bring her little girls faithfully to Sunday school. She did not start trying to look for another man. Paula's young widowhood has shown her that "God is the best husband for me and the best father for my daughters. He will take care of us." He has! We admire her modesty, her focus on her girls, and her dignity in following Jesus. She has stayed strong in faith despite the verbal stones thrown by her family. May God bless her. Her baptism is a true reflection of a life leaning completely on the Savior.
As a single mother, Alejandra made years of mistakes both under pressure from a controlling man and of her own choosing. Sound familiar? We have all tried to fulfill our own needs in sinful ways, leaning on our own understanding, controlled and driven by emotions, pride and urgency. Her words in her baptism showed how far her faith and God´s mercy have brought her, "God has forgiven me everything and given me freedom," she said with conviction and assurance.
Common law marriage has always been the norm in villages. However, Juan and Julia are examples of the young couples who are coming to Christ. They are getting baptized and getting married.
These young people bless our hearts and we love them as if they were our own children. Indeed, for our national team in the mountains, these young people have become like family to us all. Space fails us to tell you of the 18 precious lives that gave public testimony of a new birth and hope in Christ. It was a glorious sunny day so reflective of "weeping that endured for a night (in their former lives) and joy that comes in the morning (their newness in Him). It was a sunny, happy day! We wish you could have been there!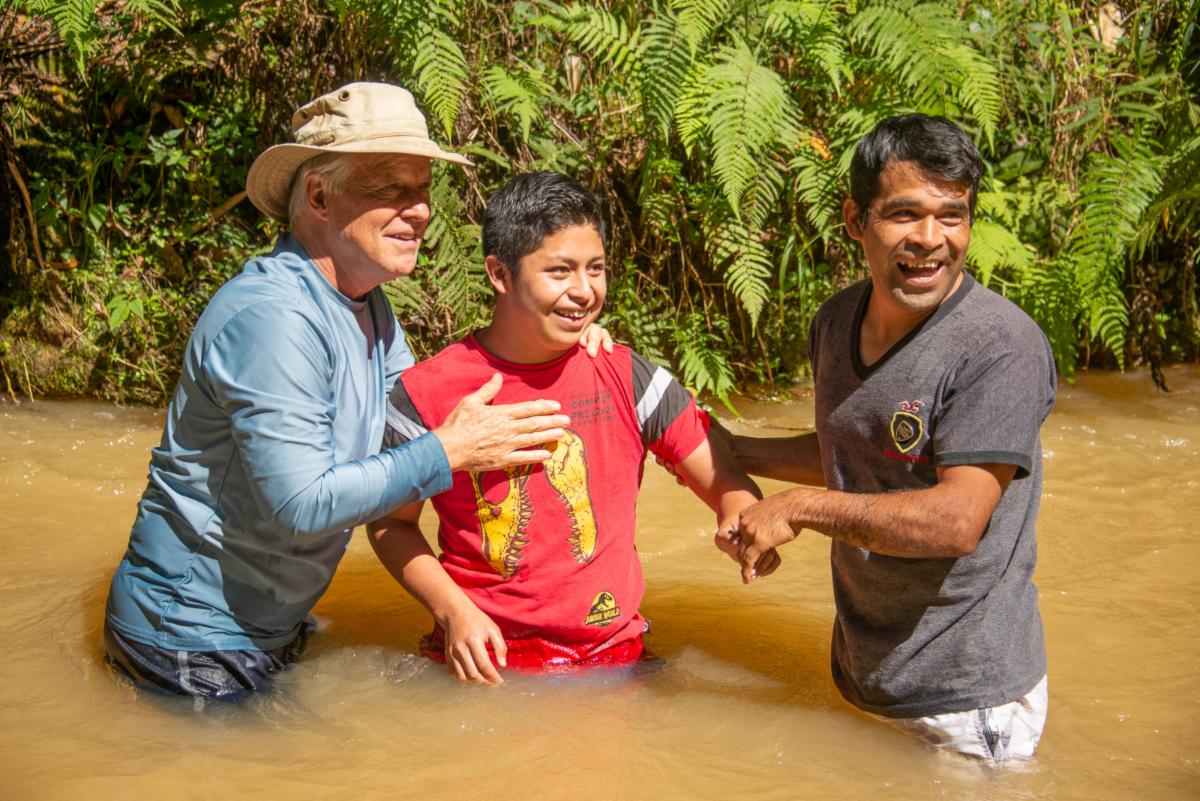 Finally, news of our family. Our son Erik has moved to a city about 100 miles from Baghdad, Iraq – arriving there to face 3 days of fever and now nationwide protests. Please pray for the beginning of his teaching year at the University. Alexa and her husband live with their three children in Virginia. They are making the new adjustment of their young daughters entering kindergarten. The girls as well as little Lukas are happy children! Rebeca continues well in DC with impacting work with 3-5 year old children at developmental risk in the DC school district's "First Stages" program. She also is very involved in her local church and has a continuing hospitality ministry. Marcos is in a transition period in his marketing career and discovering his personal creative aspects of that field. Joyfully, we have found our daughter Grace who was missing for a year and a half. This discovery is a completely Spirit-lead story! This took intense inner stress off of us as we feared she might be dead due to an increase in the murders of women here. What a relief to know where she is! Her health is improving compared to what it has been for years. Both of her sisters have come to visit her and our grandchildren have come to Mexico to lovingly meet their "Tia (Aunt) Grace" for the first time. We are praying Grace's own children can come here to see their mom, after many years apart. Thank you for praying for our children and for us in this ministry in Mexico!
Your grateful friends in Christ,